Siem Reap Angkor International Airport (SAI)
opens on 16th October 2023
 17 October 2023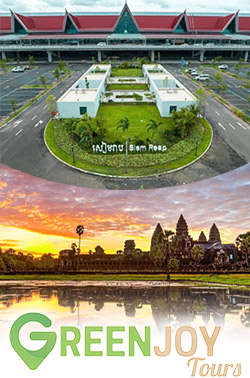 We are delighted to share that Siem Reap Angkor International Airport (IATA Code: SAI) officially starts the commercial operation on 16 October 2023. SAI has 38 berths and is able to handle 7 million passengers a year. The new airport will be able to welcome larger commercial aircraft in an effort to accommodate the expected increase in tourism in the coming years. The previous airport (REP) is closed as of 15 October 2023.
We wish to notify our partners that SAI airport is located approximately 50km from Siem Reap town center. Transfer time to and from the new airport will be approximately 1 hour at present and the government is working on improved infrastructure that should reduce traveling time in the future.
GreenJoy Tours team with our experienced guides and drivers are well prepared and ready to make this transition as smooth as possible. Our team has updated our tour programs and tariff to reflect this change and our operation teams will ensure transfer times are arranged accordingly.
The news has a positive impact to Siem Reap tourism in general as the city also has an upgraded road infrastructure with 38 roads revamped through a 150 million investment during the covid period. The result is impressive, Siem Reap is cleaner with wonderful new roads and walkways. The UNESCO Heritage site of Angkor Wat temple is as beautiful as ever and awaits you to discover.
Siem Reap currently has 2 championship courses available to play namely, Phokeethra Country Club that managed by Sofitel Angkor and also the Nick Faldo designed course, Angkor Golf Resort. Both golf courses are in top condition and ready to welcome the influx of golf tourist in high season.
Hotels and resorts are also gearing up for the high season with the famous hotels are now starting to get more and more bookings in the coming high season. Some notable hotels that we partner with are Sofitel Angkor Phokeethra Resort & Spa, Raffles Grand Hotel D'Angkor, Park Hyatt and many more beautiful boutique hotels around the town.
The new airport in Siem Reap is set to ease the transportation within the destination in the country such as the capital city of Phnom Penh which has six golf courses, and the beach destination of Sihanouk Ville with its magnificent beaches.
Tourist Visa can be easily obtained through Cambodia e-visa website and also available on arrival.
Below will be flight duration information from Siem Reap to some key destinations for the planning of the upcoming golf holidays for your valuable clienteles. We are able to quote you for all Cambodia golf tours as well as combination with golf destinations in Vietnam and Thailand.
Domestic flight duration:
SIEM REAP (SAI) – PHNOM PENH (PNH) = 50 minutes
SIEM REAP (SAI) – SIHNOUKVILLE (KOS) = 1 hour 15 minutes
International flight duration:
SIEM REAP (SAI) – HANOI (HAN) = 1 hour 45 minutes
SIEM REAP (SAI) – HO CHI MINH CITY (SGN) = 1 hour 15 minutes
SIEM REAP (SAI) – DA NANG (DAD) = 1 hour 50 minutes
SIEM REAP (SAI) – BANGKOK SUVARNABHUMI (BKK)= 1 hour 15 minutes
SIEM REAP (SAI) – BANGKOK DON MUEANG (DMK) = 1 hour 15 minutes
SIEM REAP (SAI) – SINGAPORE (SIN) = 2 hours
SIEM REAP (SAI) – KUALA LUMPUR (KUL/ KLIA2) = 2 hours 15 minutes
Should you have any questions or require additional details on the golf holidays in Cambodia, please do not hesitate to reach out.
C/O IAGTO via GreenJoy Tours
Cover pic Angkor Golf Resort